Zhalong Nature Reserve is a wetland reserve in Heilongjiang Province, China. Established in 1979, the 2,100 k㎡ marshland is protected by the Chinese government, which is a major migratory route for birds from the Arctic migrating to South East Asia and is one of the few breeding grounds in the Far East for the Marsh Grassbird Megalurus Pryeri and within the park, a large flock of Red-crowned Cranes is held in captivity for conservation purposes.
Zhalong Nature Reserve is a large permanent alkaline freshwater marsh area, made up of many small shallow lakes, broad meadow sand grassland. It is the most completely preserved, the most original, and the most open wetland ecosystems in the same latitude in North China.
This marsh reserve serves as a stopover and nesting area for a large number of storks, swans, herons, grebes and other species. Lying on a migration path stretching from the Russian Arctic around the Gobi desert to South East Asia the land under this preserve is used by migrating birds between April and October.
Now, Zhalong Nature Reserve has built a Protected Area Authority in the central west of the Nature Reserve, which main task is to protect wetland waterfowl, and for cranes' research and breeding. Also, there are residents live on several islands.
How to Get
1. By bus
Zhalong Nature Reserve is easy to access from Qiqihaer. Buses leave from the corner of Longsha Lu and Zhanqian Dajie, about one block north from the train station. Look for "扎龙" on the bus signs. If there are no buses there, you can take a 3-wheeled motorcyle taxi (tuk-tuk) or normal taxi about five or ten minutes to dà gǎng zǐ(大岗子) and find a bus there. Buses usually wait in the parking lot on the right hand side of the road near the gas station. A round-trip ticket should cost ¥20, and the trip out takes about 40 minutes.
2. By public bus and then by taxi
For the public bus, at present, only No. 306 runs to Zhalong, you can find the bus at the back of RT-MART to Zhalong and then hire a taxi from Zhalong to Zhalong Nature Reserve.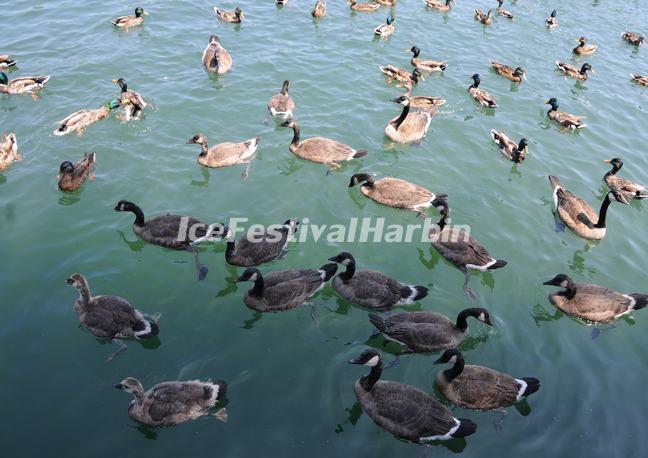 Travel Tips
Many different kinds of birds live in this beautiful marsh and grassland, including about 400 of the world's 2,000 red-crowned cranes. The crane viewing area is a short walk from the entrance. The cranes are kept in enclosures there, but are released to fly free and eat food two times a day. As of November 2012, the cranes were released at 10:30 and 15:00 but times may change. Don't let the fact that the birds are kept in pens dissuade you. As you walk out to the crane viewing area, you can spot ducks, terns, herons, geese, and many other birds. It's not like a zoo or an aviary, and when you see the cranes fly over your head it's amazing.
Tour Package to Zhalong Nature Reserve
Zhalong Nature Reserve is an excellent bird-watching center. It is only 26 km from Qiqihar. Many tourists incorporated it in their tour itinerary with Harbin ice festival every winter. This is a classical tour of Harbin ice festival and the Zhalong Nature Reserve: