Nearly all tourist places in China become choked with tourists during the summer and autumn months, but the crowds are avoidable: If you're willing to embrace a snowy aesthetic or mild-temperature weather, China's most popular destinations take on a brand new appeal. We today have an amazing photo suggestion about travelers. We list the top 10 destinations for winter escapes in China.
# 1 Harbin
Harbin is a wonderful ice city where the world's largest ice festival opens on 5th January annually. Atmosphere of the city is unbelievable, you can see here: winter swimming, dog sledding, snow sculptures, ice sculptures, ice lanterns, Siberian tigers, and so on. Here, you can spend hours wandering through the streets, ride the ice slides, horse-drawn sleigh, to participate in various competitions. Ice flowers, snow sculptures, ice towers are the specific of this miracle place. Nowadays, there are many artists, sculpture fans from Asia, Europe, North America, Africa and Oceania gathering in Harbin to participate sculpture competitions. The sizes of the sculptures keep growing. Almost half century, the city's natural resource of ice and snow has been fully explored to provide joy and fun for visitors to the city. During the festival, there are many popular sporting competitions. There are full of interesting shops and people.
Suggested Itinerary: 3-day Harbin Ice Festival Tour
# 2 Jiuzhaigou National Park
In the winter season, Jiuzhaigou Valley turns into a white world. Rivers, necked trees, mountains covered with white snow. If you`d like to avoid crowds, winter is a quietest time to visit the valley. This time is fewer tourists and no travel season, so you can save money if you visit there in the winter time. You can enjoy wandering across vast snow-covered mountains, colorful lakes, seeing the ice sculpture of the waterfalls.
Suggested Itinerary: 8-day Enticing Winter of Sichuan
# 3 Beijing
Beijing is perfect destination for your winter vocation. There are numerous things to do: skiing, hot spring bathing, hiking around the Beijing`s attractions, such as the Great Wall and Forbidden City. If you want to stay out of the cold, you can visit restaurants, museums, traditional tea houses. It is a time to enjoy with coolest and low tourist season in Beijing.
There are 10 ski resorts around Beijing which are suitable for both beginners and advances skiers, also, resorts offers snow activities such as snow flying disk, slight drawn by dogs or horses, snow and ice gardens. The open-air Ice Skating is the second place to spend your daytime. It is in the Kunming Lake and Sichahai Lake. In addition, Beijing holds its own ice and snow festival in Longqingxia Gorge (in Yanqing County) every year. During the festival, the ice and snow sculptures are displayed along 300 meters of the gorge and the evening lightning adds fun to the evening activities. There are many Beijing`s hot springs such as Chunhuiyuan Hot Spring Resort, Huaxia Hot Spring Resort and Jiuhua Spa. There you can relax and take a rest after the long cold day. It is a good idea to visit BJ in winter time.
Suggested Itinerary: 4-day Beijing Winter Tour
# 4 Yellow Mountain
The Yellow Mountain in winter is incredible fairy tale world. It is a perfect destination for your winter vacation. The magnificent mountain`s peaks and trees blanketed with snow, rimes, seas of clouds, hot springs, amazing sunrise and sunset, full-circle rainbows won`t make you regret about your tour choice. Winter is longest season in the Yellow Mountain. It begins from mid-October to the end of March. The mountain is the snowy heaven on the earth. A full-circle rainbow, the so-called "Buddhist light", is rarely seen in nature. "Buddhist light" and a sea of clouds make magic combination. A winter tour of the Yellow Mountain will be your lifetime memory!
Suggested Itinerary: 4-day Yellow Mountain Winter Tour
# 5 Zhanjiajie National Forest Park
Zhanjiajie National Park is covering about 50 square miles. This place is well-known for being the highlight of the gorgeous Wulingyuan Scenic Area. Located in the subtropical climate zone, Zhangjiajie National Forest Park is a unique "micro climate of forest"- cool in summer and warm in winter. But suggest for you warm up and get ready before get to the park because it`s a lot of walking along the way. It can take up to 2-3 days for you to enjoy the whole park. For one long walk it can take around 3 hours or so and you can see the beautiful shot along the way.
Suggested Itinerary: 4-day Zhangjiajie Winter Tour
Xiling Snow Mountain is China`s best and largest alpine ski resort. It located at the Xiling Show Mountain, 120 kilometers away from Chengdu. The highest mountain is about 5,300 meters. The Xiling mountain ski tour package usually includes skiing activities and watching pandas in Chengdu. Xiling Snow Mountains is more than just a ski resort; it is a mountain range with several peaks and valleys. There are reveal waterfalls and overhanging crags. But Xiling Snow Mountain is suitable to visit all year around. In spring and summer, the mountain flames with azaleas. They make the mountain a sea of flowers. In autumn, the mountain is decorated with colorful leaves.
Suggested Itinerary: 5-day Xiling Snow Mountain and Chengdu Winter Tour
# 7 Hani Rice Terraces
The Hani Terraces are located in Yuanyang County. It is regarded as one of the most beautiful area in the world and was crowned as one of the China`s 17 most attractive scenic places. It is fantastic place, the crystal clean water from the rain and from mountain springs flow down from the mountains above to the rice terraces, and the whole cycle repeats itself perpetually. During the winter to early spring season, the entire field is irrigated with spring water from the forest above to rejuvenate and prepare for the next growing season. The best time to visit Hani Terracces is though November to April. It is the incredible clean air and prettiest moment.
Suggested Itinerary: 12-day Enchanting Winter in Yunnan
China`s Snow Town is the paradise of photographers. It is located in the forest and mountain area of Heilongjiang province. You can take some photos of the wooden houses with red lanterns, go skiing, take the romantic horse/dog sleigh through the forest, take the snowmobile to watch sunrise, visit the local tiny museums. At night, you can taste the local dishes and wines in the farmers' family restaurants; experience the farmers' unique kangtou (a kind of heatable brick bed) in their family hotels.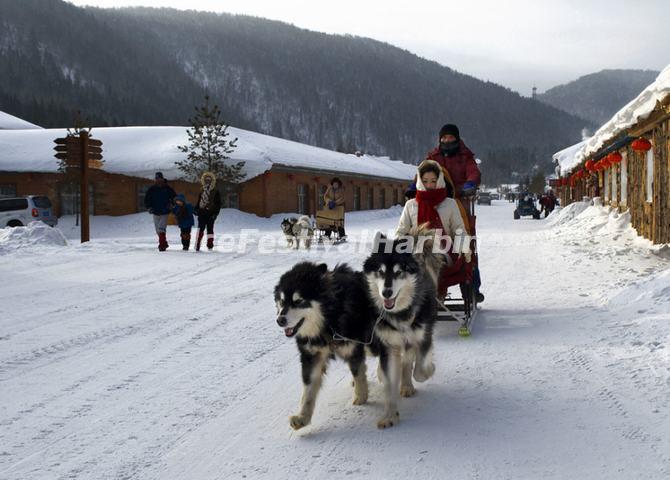 Suggested Itinerary: 5-day Unforgettable Harbin and China's Snow Town Tour
# 9 Lijiang
Lijiang is incredible city in the center of Yuanan province. This region noted with its ethnic minorities. The winter time is good to visit this place. It is a very pleasant place with spring weather. There are a lot of things to see, for example, the Black Dragon Park. It is one of the fantastic places of Lijiang. Lashi Lake is another heaven place in the earth, especially for 30,000 migratory birds that come here to avoid cold places during the winter.
To take some fun you can go to Bar-hopping in the Old Town. There located famous Chinese`s bars, no matter what you would like to do, to dance or watch a shows, there`re bars for everyone. In addition, you can enjoy the Naxi people's culture shows in the ancient city, go hiking in the Tiger Leaping Gorge, or take pictures in the beautiful Jade Dragon Snow Mountain.
Suggested Itinerary: 9-day Kunming Dali Lijiang Winter Tour
# 10 Sanya
Sanya is the second biggest city in Hainan province. The city has many nature adventures. It is place of blue water, sunshine and wide beaches. It is a vacation paradise all the year around. If you want to avoid cold winter, it is a perfect place to visit. There are, also, a lot of attractions. Yalong Bay is situated in 25 kilometers away from Sanya. The bay is the best place in Sanya, it includes five islands and 50 square kilometers of sea-area. Butterfly Valley is 1,000 square meters with vibrant colors butterflies flying around. In the exhibition hall, there are 2,000 kinds of butterflies and insects on display. There are also Peking Papilios, they are most rare butterflies in China. Another well-known beach is Dadonghai. It is near the downtown of Sanya. It is surrounded by mountains and there are rows of coconut trees, crystal clear water and sandy beach. About 400 meters east of the beach, there is a coastal park, where you can look out over the gorgeous land. There are numerous places where you can go, here just some of the gorgeous places. For many, winter is the best reason to visit Sanya, keeping from the cold weather in the most part of China. So the high tourism season in Sanya starts from September to Chinese lunar New Year. The average temperature is 25.5 ℃.